Maureen Horn Joins Michael Saunders & Company
Posted by Tom Heatherman — October 15, 2009
Top-Producing Sarasota Agent is Based in the Firm's Longboat Key South Office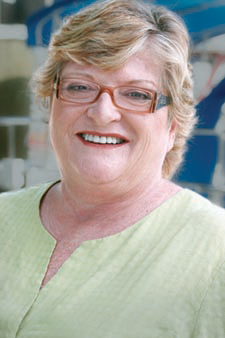 SARASOTA, Florida—(October 14, 2009) Maureen Horn, a top-producing agent in the Mid-Florida Regional MLS, has joined the Longboat Key South office of Michael Saunders & Company, it was announced today by company founder and CEO, Michael Saunders.
Horn, a Philadelphia native and REALTOR® for the past five years, is currently ranked among the top 25 agents in the Sarasota market. Before joining MS&C she was an associate with Prudential Palms Realty, where she was recently ranked number one in closed sales for June of 2009. She joins Michael Saunders & Company with her husband and business partner Steve, who is also a REALTOR® and candidate for the prestigious CIPS designation (Certified International Property Specialist).
"We are absolutely thrilled to welcome Maureen and Steve Horn's to our extended family of top-tier market professionals," said Michael Saunders from Boston where she is participating in the Christie's Great Estate's 2009 Global Annual Conference. "Maureen's diligence on behalf of her clients and customers has propelled her not only into the ranks of Sarasota's top real estate professionals, but has also earned her national and international recognition. Moreover, the support she gets from Steve has given her a tremendous boost in the level of service and attention that she is able to offer her buyers and sellers."
Horn has earned numerous industry accolades and professional designations during her relatively brief time in the business. These include winning Prudential's President's Circle Award during her first two years in the industry; and later claiming the Chairman's Gold Award for finishing within the top 3% of all Prudential agents nationwide. She also merited the Quality Service Certification Platinum Award for finishing within the top 2% of 10,000 agents nationwide based on independent surveys of buyers and sellers.
Closer to home, Sarasota Magazine's honored Horn with its Five-Star Best In Client Satisfaction Award for the last three consecutive years. She also won acceptance into RISMedia's Top 5 in Real Estate Network®, one of the most prestigious of all industry achievements; and has earned the important GRI (Graduate REALTOR® Institute) and SRES (Senior Real Estate Specialist) designations from the National Association of REALTORS®.
Maureen and Steve Horn are familiar faces in the Sarasota, Bradenton and Longboat Key communities, having arrived here from Cape May, N.J. in 1992. Long time restaurateurs, they owned and operated Maureen's Palm Grille an award-winning local favorite on Longboat Key from 1998 to 2005. They have been involved in numerous community organizations including the Asolo Theater, Save Our Seabirds and Fit For The Cure/Susan Koman's Breast Cancer Awareness. Maureen also started the Tea To Tequila Networking on Longboat Key in 2000.
The Horns have one son, Stephen, who attended St. Stephens Episcopal School in Bradenton, where he graduated in 1995. He is now a commercial real estate broker in Sarasota, while his wife Beth was a pre-kindergarten teacher at St. Stephens.
Maureen and Steve Horn are based in the Longboat Key South office of Michael Saunders & Company, located at 444 Gulf of Mexico. Maureen can be reached by calling (941) 539-3384, Steve by calling (941) 306-7237; or by email at MaureenHorn@michaelsaunders.com.
About Michael Saunders & Company:
Now in its fourth decade of service to Southwest Florida, Michael Saunders & Company has grown from a single small office into a network of 17 full-service offices—with more than 500 professionally trained associates and 150 staff members. Powerful world-wide affiliations—including Leading Real Estate Companies of the World, Luxury Portfolio, Christie's Great Estates, the European Real Estate Network (EREN) and Mayfair International Realty extend the company's message to qualified buyers globally, ensuring the broadest possible exposure for our properties.
Michael Saunders & Company is ranked as the 73rd largest brokerage in the nation in the 2009 Power Broker Report compiled by RIS Media, the and is included among the 35 most influential Realtors in luxury real estate.
Customers of Michael Saunders & Company are assured of a comprehensive array of real estate services that will address every need. These services include commercial sales and leasing through the company's Commercial Division, along with mortgage loan origination and full title and closing services. MSC Mortgage provides a full array of mortgage products through its partner, Wells Fargo Home Mortgage; while the expert team at MSC Title includes title examiners, processors, and closers dedicated to building on the reputation of Michael Saunders & Company for unequalled service and solutions. Backed by the underwriting strength of First American Title and Chicago title, MSC Title provides peace of mind by assuring that a buyer's new property is free of liens and title defects. The award-winning MSC Relocation Division provides corporations with a wide range of relocation services to smooth the transition and assure immediate employee productivity in the new environment. MSC Assets Management Division, the company's newest, is specifically structured to help lenders and community bank successfully market and sell REO (Real Estate Owned) properties.
For more information about Michael Saunders & Company, please call 1-888-552-5228 or visit us on the Web at MichaelSaunders.com.