Rodeo Realty, Inc. & Syd Leibovitch Host Fundraiser for Congressman Brad Sherman
Posted by Sheila Wenz — October 5, 2009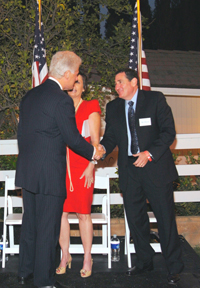 President Bill Clinton was a featured guest at a fundraiser for Congressman Brad Sherman. The event took place Sunday, October 4, 2009 at the home of Syd and Linda Leibovitch of Hidden Hills, California.
Syd, the owner of Rodeo Realty, Inc., California's largest single-owner real estate firm said this. "I support Brad Sherman because he seems to be the only and loudest voice in Congress that will speak up toward holding the rating companies responsible for their actions, which in my view, was the major contributor to the mortgage meltdown. "And, adds Leibovitch, "Bill Clinton is always a phenomenal speaker."
Pop star Kenneth "Babyface" Edmonds also performed at the fundraiser attended by more than 250 guests.
About Syd Leibovitch & Rodeo Realty, Inc.
Rodeo Realty, Inc. was founded in 1986 by President and Broker, Syd Leibovitch. Today the company is the largest single-owner real estate firm in California and the country, with 12 branch offices, nearly 1000 Realtors and annual sales and listings exceeding $3 billion. Leibovitch also owns LA Mortgage and Encore Escrow companies. As a leader in the real estate, mortgage and banking industries he is a frequent expert witness and media consultant.