Seventh Annual Sunnyside Music Festival Scheduled for September 12th in Denver's Chaffee Park
Posted by Douglas E. Lierle — August 30, 2009
DENVER – Leilani Renteria, a leading broker associate with Kentwood City Properties, is sponsoring the Seventh Annual Sunnyside Music Festival scheduled for Saturday, September 12, 2009 in Chaffee Park. The festival is a grass-roots neighborhood music fair showcasing a dozen family-friendly Colorado bands, neighborhood entertainers, boutique shopping, children's activities, plus local food and beverages. More than 6,000 attendees are expected for this year's event to benefit several neighborhood organizations, including The Other Side and area schools.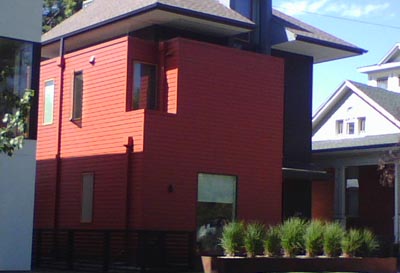 "The Sunnyside neighborhood is a culturally diverse neighborhood just five minutes north of downtown Denver," said Renteria. "I found my new modern, solar home when I was showing property to clients in 2007. I was living downtown in a loft and wasn't even thinking about moving but knew within minutes of stepping into my house that it was where I was meant to live. Within weeks I discovered how mellow and cool the neighborhood is. It's really a 'word of mouth' neighborhood where buyers discover the vibe while visiting with their friends. Almost every block you'll also discover natural, colorful gardens. There's even a neighborhood Garden Tour each summer. In the evenings and weekends, the sidewalks are active with people walking their dogs, bicycling with their kids and visiting with neighbors. It's truly one of the most enjoyable Denver neighborhoods I have lived in.
"The festival is a fantastic community event and has tripled in growth each year," Renteria continued. "We have given over $5,000 to neighborhood organizations and schools, including The Conflict Center, the Acadamia Ana Maria Sandoval, Rocky Mountain SER Head Start, The Banyan Tree Drum Project, and the Denver Arts & Technology Academy. More information is available online, including sponsorship details, at http://www.sunnysidemusicfest.org/."
Now in its seventh year, the Sunnyside Music Festival has become a mainstay for the northwest Denver neighborhood, taking over Chaffee Park the Saturday after Labor Day each year. New charities are chosen each year, and more than 30 leadership committee volunteers, 50-plus event volunteers and dozens of local businesses make the event possible as it continues to grow. This year's festival runs from 10 a.m. to 7 p.m. on September 12th at Chaffee Park located at 44th and Tejon. Contributions and sponsorships may be tax deductible.
For more information, contact Leilani Renteria with Kentwood City Properties at 303-908-9207 or via email at leilani@kentwoodcity.com.
Kentwood City Properties, formed in 1999, is the newest member of The Kentwood Companies, known nationally as Denver's premier real estate company. The company's street-front office at the corner of 17th and Wynkoop streets, directly across the street from Union Station, is comprised of nearly 50 of metro Denver's most experienced real estate professionals serving residential buyers, sellers, and developers. For more information phone 303-820-CITY (2489), and visit online at http://www.kentwoodcity.com/.
The Kentwood Companies is comprised of Kentwood City Properties, The Kentwood Company at Cherry Creek, and The Kentwood Company in the Denver Tech Center. View all Kentwood listings at http://www.denverrealestate.com/.