Koenig & Strey GMAC's Lake Forest Offices Win 1st Place Prize in Lake Forest Days Parade, Third Year in a Row
Posted by Cari O'Brien — August 9, 2009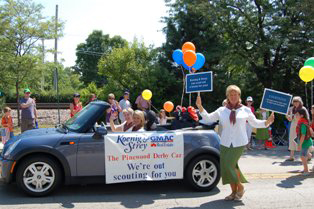 Lake Forest, IL - During the 2009 Lake Forest Day Parade and for the third year running, the Koenig & Strey GMAC Real Estate offices in Lake Forest were the proud winners in their division. The Lake Forest agents put another year of creativity in to the scouting theme, demonstrating that "we are scouting for you" year after year and our commitment to the community is stronger than ever.
In honor of the Lake Forest Day Parade, Don't forget to stop by either of the Lake Forest Koenig & Strey offices and drop off non-perishables and school supplies so our local scouts can donate and distribute them to those in need.
Lake Forest Day is the largest annual celebration held in Lake Forest and thousands of residents and visitors attend. This year marked the 101 year anniversary of the parade, which is sponsored by The American Legion.
Koenig & Strey GMAC Real Estate's Lake Forest offices are located at 600 N. Western Avenue, 847-234- 8400 and 825 S. Waukegan Road, 847.295.8400. Koenig & Strey GMAC has nearly 1,000 sales associates serving Chicago, the North Shore, Lake County, and the northwest and western suburban areas. Koenig & Strey GMAC Real Estate is an exclusive affiliate of Christie's Great Estates. For additional information, please visit www.ksgmac.com.